When it comes to weekends, I could not ask for more.
Since Friday was my self designated no more crabby days, I dressed the part to make myself feel better (dressing cute always makes a day so much better) and of course I was wearing the Louboutins.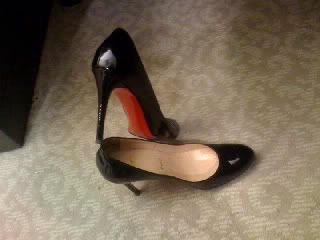 These were my first pair of Louboutins, in which I feel head over heels in love with the shoes. I wish I could collect them and have a closet full.
On Friday the boss decided that he had checked out at 2 pm and it ready for happy hour. Thank goodness, I was so excited. We took the walk down to Pier 23 and started with buckets of beer and continued through the night.
Saturday was a bit of a bummer, spent most the day inside hiding from the 100 degree heat. Really where is this heat coming from?
Today was awesome. I decided that I would head downtown Walnut Creek, this place has changed and for the much better. Headed over to lululemon (how I love their Grove pant) and found a pair of gray pants (woowwweee) usually they only have black so I scored. Then headed over the the Free People store which by the way I lovvvvveee me some Free People. Somehow I ended up at the Tiki bar with my sister and her boy... ahhh Sunday Funday.
Anyone else have a great weekend?