It is back to work I go.
I took another day off yesterday because I have not been able to feel better. So I took another day and slept till noon! The last time I slept till noon it was because I had a little to much fun the night before (ooopsie).
So today I decided to dress the part of a healthy person and dressed in a dress with of course good shoes. For anyone in the Bay Area who loves shoes
Footcandy
is the place to be. I discovered them awhile ago, and fell in love. The great part is the owners also own a winery, wine and shoes, WHAT?
So the other great thing is that Carolyn Butler (owner) started working with designers to create a special shoe to benefit
Golden Triangle Asian Elephant Foundation
. To my knowledge Casadei was the first designer to work with Footcandy to design a shoe, since I have seen Manolo and Christian Louboutin designs as well. Well when I saw the cute pair by Casadei and that they benefited elephants I thought why not? Well here they are. The shoe is a peep toe, patent leather, with the RED heel! I love.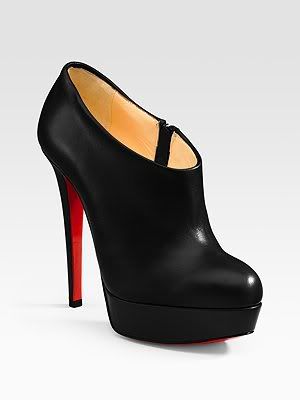 I was wandering over at saks.com today and help I think I have found what is NEEDED for fall. Feist your eyes on these my pretties the Christian Louboutin Platform Ankle Boots. YUM is all I can say, do you think I could use the excuse of being depressed about not having our offer excepted on the house to run out and buy these?
What do you gals think? A reason for splurge??