So 8 years ago today our U.S. history books added another major incident to the pages. Since then lifes have changed and been lost. A big thanks to the U.S. troops serving overseas, you are greatly appreciated and are forever in my thougthts. Ok I got that out of my system but now it is time to reflect on the positive, the blueBerryman wedding weekend extravaganza.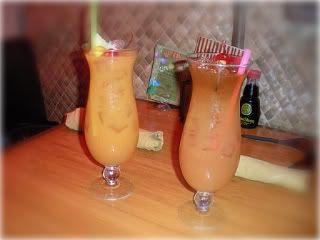 The weekend started off on Friday night when M and I got down to Monterey. We decided on
Hula's
for dinner and had one very tall refreshing drink. I had a hurricane and M had what would have been
a scorpion bowl, had it been in a bowl and big enough for 4 people. After these drinks (and the beers we had before dinner) we were feeling mightly fine! We then moved on to the hotel bar for some more delicious drinks by our fav bartender there Jenny from the block.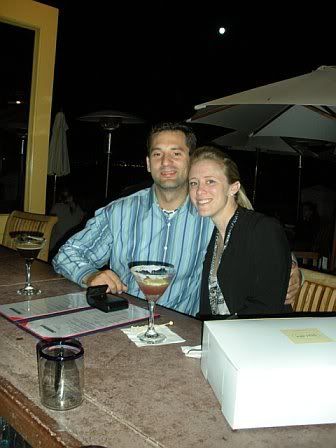 See the box there at the bottom, that is a big box of
teacake bakeshop
. Deliciousness!! After the cupcakes and the sugar filled drinks M decided to do a photoshot of me. Of course me being the always serious person I am he got these.
The wedding itself was Saturday held at the Monterey Plaza Hotel and Spa. All I can say is awesomeness! Gorgeous backround of the bay and it was an absolutely perfect day weather wise. Of course I got to wear my amazing Manolos (sequined, peep toe, mary-jane). Love me some shoes!
Also if you are looking for a place to eat in Monterey we loved the
Trailside Cafe
for breakfast two days in a row. Their blueberry pancakes were amazing, so was the breakfast burrito (perfect hangover cure). Just dont go in the bathroom, there's a jungle cat in the bathroom.
We ended the weekend with a little aquirium visit so we got to see the seahorse exhibit as well as the new great white shark, those things are scary, the black eyes freak me out. I couldn't ask for a better weekend, great weather and good friends.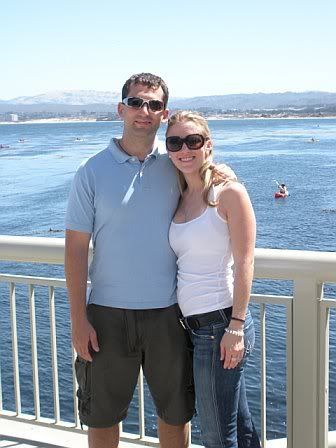 M and I, Montery 2009

Tomorrow we are headed up to Alexander Valley for Robert Young Ranch day. cannot wait to taste the Burnpile cabernet, I have been waiting all year for it. So cheerio my boos hope you have a fantastic fun filled weekend!