Good afternoon. So only three days after the propsal and us saying "house first then wedding plans" I have spent most of today exploring various wedding sites. Ahhh help me I am so addicted to looking at them and cannot help myself. I have come across a fabulous sites that have great shots of weddings. A few are:
All of these are awesome and provide such a range of ideas. But there I go again jumping ahead of myself. House first then wedding, then again why wouldn't I want to look at all the fun ideas.
So they story from Saturday goes... M and I were going up to
Robert Young Winery
for the club member ranch day along with my parents (who are also members) and my sister and her significant other as well, this had been planned by me for some time now. Well last week M told me that his Dad was flying out to see his brother and was going to stop up in northern CA first and his brother was going to come up for the weekend too. Ok so I guess we are all going then. Of course since I had planned the day I was none the wiser.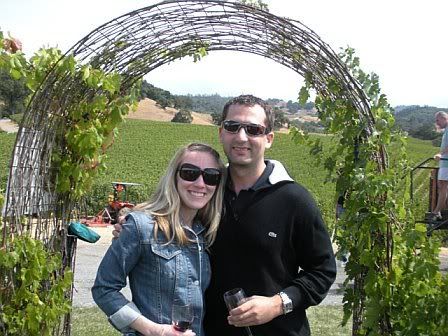 To make a long story short, he snuck us off with the owners approval by having the tractor guy give us a ride through the vineyards, that is where he proposed. Here is us arriving back from the tractor (I had no idea the arch was behind us).


And probably one of my favorite photos to this day.